Priyanka Chopra Reveals Her Mom Was In A Nighty When She Met Nick Jonas For The First Time: "It Was Weird"
Priyanka Chopra Jonas is in the news lately after the launch of her memoir titled Unfinished. In the book, she has shared some hidden details of her personal life which many of us were unaware of until we read the book. The actress, who has made her mark in both Bollywood and Hollywood, turned author for the book, which is doing fantastically well with her fans. She has revealed many of her personal life details from her youth, childhood, and teenage life. The book also comprises some awkward moments that she has faced in her life which show us that she is nothing but a common girl who has reached great success with a lot of hard work.
In one of the incidents that she has mentioned in the book, she recalls the first meeting that her husband Nick Jonas had with her mother Madhu Chopra. Apparently, it wasn't a planned meeting and there was a lot of awkwardness. She recalled that her mother was wearing a nightie when she met the pop star Nick Jonas for the first time. It was around 1 in the night when she decided to take Nick to her home and here's what happened.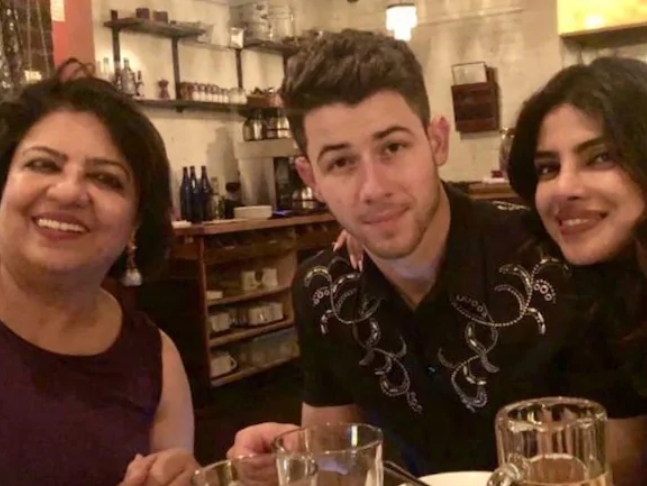 "It was not supposed to be an introduction to parents. I forgot that she'd be up. And she still teases me about it. I forgot to call her because it was 1 o'clock at night and we were like 10 minutes away. So by the time we took the decision of coming to my house, we were already there."
Continuing further, she recalled in the book, "My mother was so shocked! It was 1 o'clock at night, she is wearing is nightie and we won't forget this because it was weird for me as well. You are bringing a guy home, it was like kind of strange, and she jumps out of bed terrified."
Further, she recalls that her mother felt super awkward meeting Nick like that and went straight for the washroom. She wore a lipstick and questioned Priyanka about her decision to bring Nick. She said, "Why didn't you tell me? I am not going to come out!" I said if you are not coming out then why are you putting your lipstick on?"
This is certainly an awkward moment for anyone's mother to meet her daughter's boyfriend in a night gown.