Priyanka Chopra is one of the busiest actresses both in Hollywood and Bollywood. The diva keeps traveling between the US and India back and forth to manage her work. However, the latest post by 'White Tiger' actress has left her fans a bit worried and concerned.  The actress took to her social media handle and shared a selfie with her face covered with bloodstains. She even mentioned that she has suffered from an injury while shooting for her show Citadel.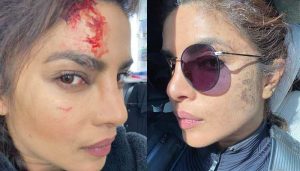 Although, Priyanka posted the selfie with a twist asking her fans to detect which injury is real and which one is fake. This left the followers of the diva confused and they started guessing, one follower commented that the injury on her forehead is real while others said the one on her eyebrow is the real one.
Priyanka then herself replied to the comment of her fan with thumbs down emoji and then posted another picture marking which injury is the real one. Priyanka indicated that the cut on her eyebrow is the real one and the bloodstain on her forehead is fake.
Before this, there was another picture of the actress with Game of Thrones star Richard Madden which had gone viral on the internet. The picture was from the sets of Citadel which had Priyanka Chopra swinging off the harness in body-hugging costume with her hair tied in a braid.