Pooja Bhatt Shares Her Battle With Alcoholism: Says She's Been Sober For 3 Years 9 Months Now
Mahesh Bhatt's daughter Pooja Bhatt has been in the headlines for some time since her father was connected to Sushant Singh Rajput's death case. She has come out to support her father everytime any allegations were thrown at him. This time, Pooja Bhatt has come forward to talk about her personal life and her journey through sobriety. She was an alcoholic and has been sober for over 3 years and 9 months now.
Recently, Pooja Bhatt shared a selfie on her Instagram handle but it is the caption which got everyone's attention. Along with the picture, Pooja Bhatt penned down a long note about battling alcoholism and shared her journey to the sobriety. She wrote, "Three yrs & nine months sober today. One more quarter and I will be four As someone who drank openly,I chose to recover openly." She then wrote that she was ridiculed by some people, but was also called courageous by most, and she wondered why people consider speaking openly about addiction issues as courageous.
"I understand more than ever today that it's because people simplify/stigmatise addictive behaviour & tend to criminalise it without attempting to understand why someone used a substance to begin with.," she wrote.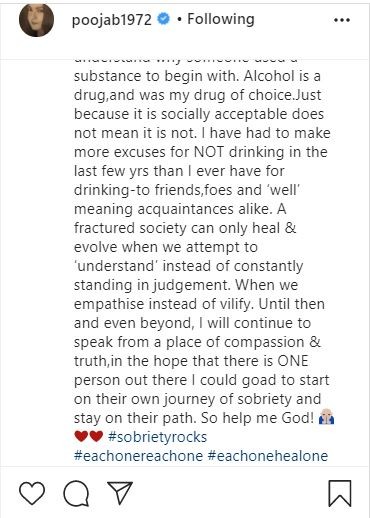 Pooja Bhatt added that alcohol is a drug and that it was her drug of choice. "Just because it is socially acceptable does not mean it is not. I have had to make more excuses for NOT drinking in the last few yrs than I ever have for drinking-to friends,foes and 'well' meaning acquaintances alike," wrote Pooja Bhatt. She further urged people to empathise instead of vilify those battling addiction. Ending the caption, she wrote, "I will continue to speak from a place of compassion & truth,in the hope that there is ONE person out there I could goad to start on their own journey of sobriety and stay on their path. So help me God!," Pooja ended the note with the hashtag 'sobriety rocks' and 'you are not alone'.