Mirzapur 2 Fame Ali Fazal Reveals He Had To Undergo 'Months Of Physiotherapy' For Guddu Pandit Role
Many actors are known to have gone the extra mile to get into the character they are playing and do justice to the role. Heath Ledger playing Joker, Ranveer Singh playing Alauddin Khilji, Nawazuddin Siddiqui playing Raman Raghav 2.0 and many other similar stars have paid a huge price for acing ye role they played. Recently released web series Mirzapur 2 received a lot of accolades and great reviews from film critics. Now, one of the leads Ali Fazal has revealed that acing the role of Guddu Pandit with a stick in his hand didn't come in easy for him.
Ali Faizal took to his Twitter handle and shared a candid picture from the sets of Mirzapur 2, in which he is seen with a walking stick. He revealed that using the stick 'cost (him) months of physiotherapy in the wrist' but he has no regrets as the show was worth it. He also shared some musings, from the weather in Mumbai to world politics. He wrote, "That stick work cost me months of physiotherapy in the wrist. But worth every moment .. #mood in other news – looking towards interesting times. Bombay is already getting cold. Fascism maybe on its way out from the planet. Love to all @PrimeVideoIN #mirzapur2 #mirzapur," the actor wrote.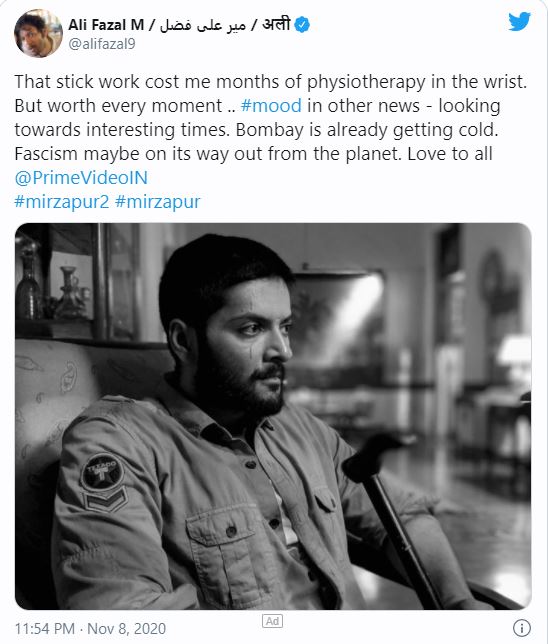 Recently, Ali revealed that he almost turned Mirzapur down because he was not offered the character of Guddu, to which he was immediately drawn when he read the script. "I was stuck on Guddu. I was offered another part initially. I think it was Munna's part, which Divyenndu has done. At that time, I was so invested in Guddu because I felt like there was so much I could bring to it," he told Filmfare.
"I really like parts that are unpredictable to me. If I can figure out the entire journey in my head, then it's no fun. There won't be any team work because I am not the only person. So I made an excuse. I said I don't have dates, something has come up. So I left. Then I got a call back later saying that we want to see, let's try this," he added.