Kushal Tandon Shouts 'Main Zinda Hoon' After Karanvir Bohra Tags Him For Committing Suicide Instead of Kushal Punjabi
Mental health is an important subject and as we have seen the cases of suicide shooting up, it is time that people start talking about it. A day before yesterday, on 10th September, the world celebrated Suicide Prevention Day. Many stars came forward to speak on preventing suicide and one among them was Karanvir Bohra. He gave a message and tagged those who had died by suicide. However, he made a slight mistake and instead of tagging actor Kushal Punjabi who killed himself a few months back, he tagged the handsome and much alive TV star, Kushal Tandon.
While sharing a report about his initiative to spread mental health awareness, the actor mistakenly tagged Kushal Tandon instead of Kushal Punjabi. KV tweeted, "And I'm glad that @reenajabran and I started on day like today #SuicidePreventionDay . I loved #KushalTandon so much. Wud like to mention #chetanhansraj & @MeetBrosHarmeet too,v thought of starting something like this & each of us r doing r bit4 a cause like #SuicideAwareness." In response to the tweet, Kushal Tandon wrote, "main zinda hoon I am not dead." Check out the tweets: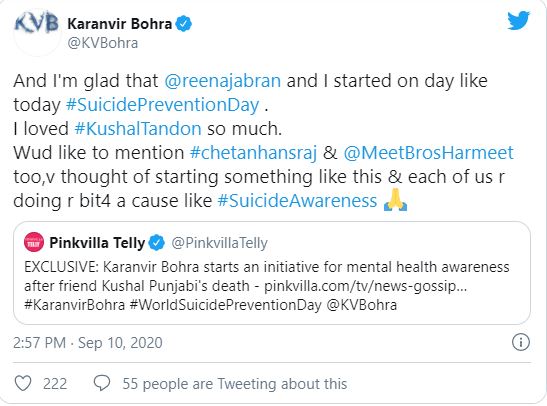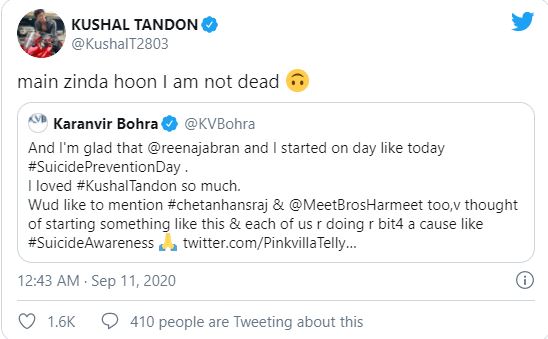 Replying to Kushal Tandon, KV apologies and said it was a typo. "Sorry sorry bro, it was a typo…I love you too and you know that That @nikitindheer is the chingari, I'm sure he sent it to you," he wrote.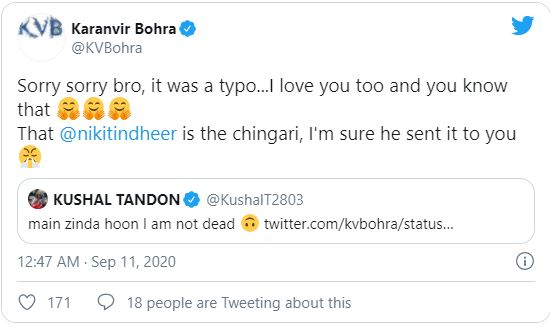 Karanvir Bohra and Kushal Punjabi were very good friends and Karanvir was the first one to confirm the death of Kushal Punjabi last year. Sharing the news of his friend's demise, KV took to social media and wrote, "Ur demise has shocked the hell out of me. I'm still in denial @PunjabiKushal I know you are in a happier place, but this is unfathomable. You really inspired me with the way you saw life, but what was I to know. I will always remember u as a #dancingdaddy #fit & a #lifeenthusiast."