Karan Patel Says Kangana Ranaut Is The Most Hilarious Stand Up Comedian After Her Post On Forcefully Taking Oxygen From The Environment
Kangana Ranaut recently tweeted on the inadequacy of oxygen concentrators in the country and posted about forcefully taking oxygen from the environment. As soon as the tweet got viral she was trolled hilariously on social media and has faced major backlash from the Twitteratis. Even TV actor Karan Patel shared a screenshot of the post and wrote, "This woman is the most hilarious stand-up comedian this country ever produced." Take  a look: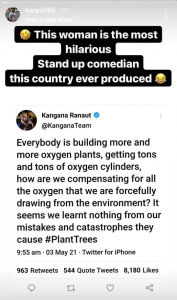 Kangana had tweeted, "Everybody is building more and more oxygen plants, getting tons and tons of oxygen cylinders, how are we compensating for all the oxygen that we are forcefully drawing from the environment? It seems we learnt nothing from our mistakes and catastrophes they cause #Planttrees."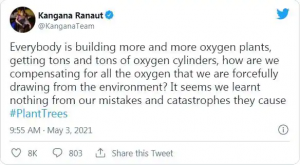 In the follow-up tweet she had added, "Along with announcing more and more oxygen for humans, governments must announce relief for nature also, people who are using this oxygen should also pledge to work on improving the air quality, for how long we going to be miserable pests only taking never giving back to nature."
Stay tuned for more such gossips.