Himansh Kohli Shows His Anger Over Fake Video Which Shows Him Apologizing To Neha Kakkar, Says, 'Sudhar Jao'
Neha Kakkar, who recently got married to a Punjabi Singer Rohanpreet Singh, once dated Himansh Kohli for years. Reportedly, the two called broke up on a very bad note, which was even become controversial when Neha Kakkar claimed of going into depression and attempting suicide after the breakup with Himansh Kohli. Now, when the two have finally moved on in their life, a video is creating a buzz on social media which shows Himansh Kohli apologizing to Neha Kakkar. Reacting to the video, Himansh expressed his anger over the video and asks who is benefitting from all this manipulative content.
While sharing the video on his Instagram story, Himansh Kohli wrote, "I wonder when such manipulative content will be banned from social media. Who is benefitting from all this nonsense? What's more upsetting is that people are sharing this actively. Please wake up and stop spreading the hatred and this fake post. Sudhar jao". Earlier, Neha used to share cryptic posts on her Instagram account and fans used to speculate that the post is related to Himansh. Reacting to it, he told Etimes, "Those were all misconstrued and flew across the media left, right and centre for no reason. Besides, relationships and break-ups are a common part of life."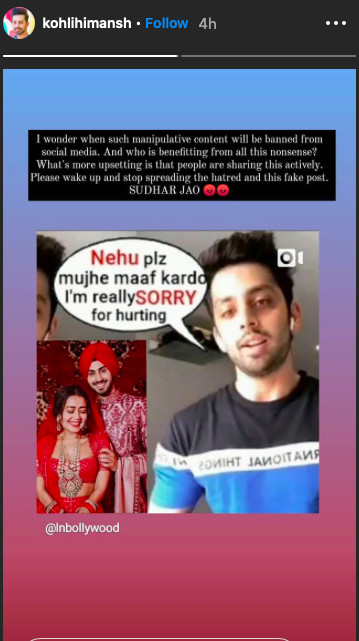 Talking about Neha Kakkar and Rohanpreet Singh's wedding, Himansh said that he wasn't aware of Rohanpreet and Neha's love story, however, he added that he was happy for her. "Well if Neha is indeed getting married, I am happy for her. She's moving on in her life, she has somebody and it's great to see that," he said.