Hema Malini & Dharmendra Become Grandparents Again As Ahana Deol Blessed With Twin Girls
On November 26, Hema Malini & Dharmendra become grandparents again as their younger daughter gave birth to twin girls. Ahana Deol, who got married to Vaibhav Vohra in 2014 was blessed with a baby boy in 2015. Now 5 years later, the couple is more than elated as they welcomed twin girls. Taking to her Insta story, Ahana took to social media to announce the good news. In her post, Ahana also revealed the name of her twin girls and mentioned that grandparents Hema Malini and Dharmendra are 'overjoyed' by the news.
Ahana Deol and Vaibhav Vohra have named their twin daughters- Astraia & Adea Vohra. Her Insta story read, "Sometimes miracles come in pairs. We are blessed to announce the arrival of our twin girls Astraia & Adea Vohra. Born on November 26, 2020. Proud parents Ahana & Vaibhavi Vohra. Excited brother Darien Vohra. Overjoyed grandparents Pushpa & Vipin Vohra, Hema Malini & Dharmendra Deol." As per online reports, Ahana is yet to get discharged from the hospital.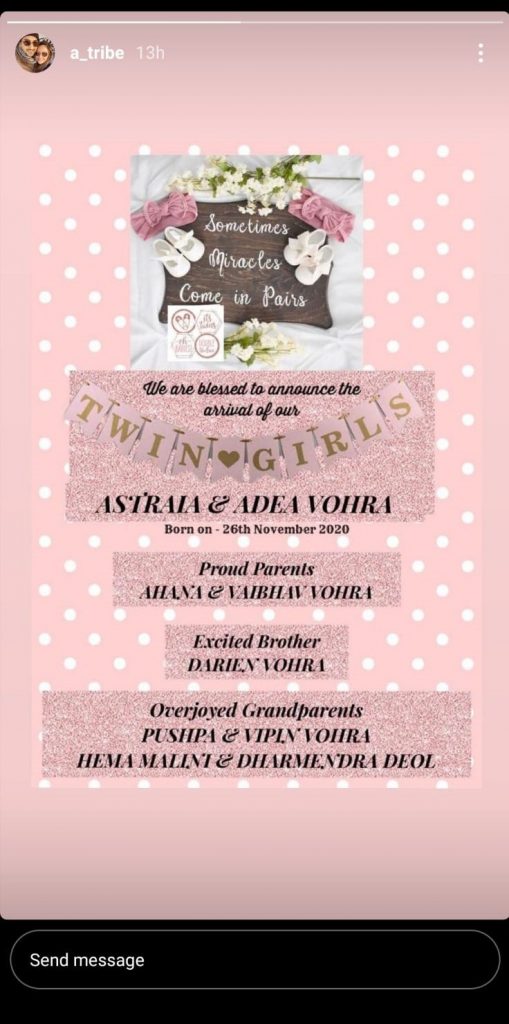 Earlier, talking about her grandkids in an interview, Hema Malini had revealed how her grandkids are always addicted to her phone and lipsticks. She had said in an interview, "Lipstick nikaal nikaal ke mere haathon mein lagati hai, she wants to even put it on my face. When I'm doing my make-up in the morning, she must sit on my lap. She also wants my purse. It is because of her that I'm carrying a small one. I also remind myself to keep the purse super-light."