EXCLUSIVE! Big Cat Fight Between Urfi Javed And Chahatt Khanna: Deets Inside!!!
Everyone knows fashionista Urfi Javed and her quirky fashion styles. She is one confident woman who pulls off any outfit, any style, and any piece of clothing she wants to wear. Recently she was spotted in a mustard yellow cutout dress while going for an interview.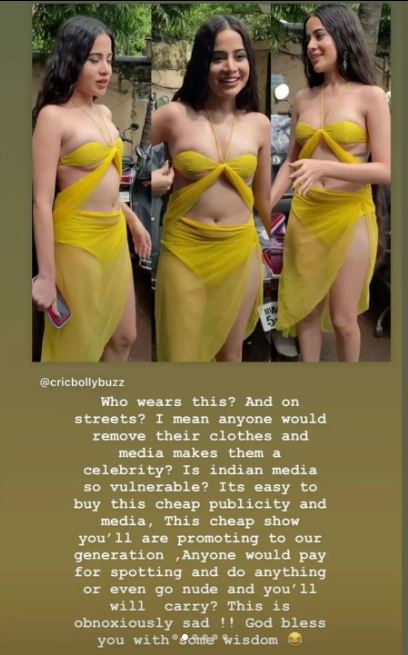 Actor Chahatt Khana took a dig at Urfi's style and posted pictures of her Instagram handle with a long note. She said,  "Who wears this? and on the streets? I mean anyone would remove their clothes and the media makes them a celebrity? Is Indian media so vulnerable? It's easy to buy this cheap publicity and media, this cheap show you'll are promoting to our generation, anyone would pay for spotting and do anything or even go nude and you will carry? This is obnoxiously sad! God bless you with some wisdom."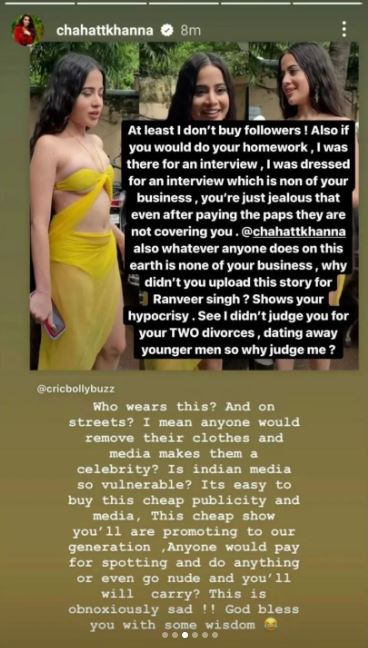 Urfi who lashes at people in front of the camera if they say anything negative about her didn't let this chance go of giving it back to Chahatt. She took it onto her Instagram where she reposted Chahatt's post about her and wrote, "At least I don't buy followers. Also if you would do your homework, I was dressed for an interview which is none of your business. You're just jealous that even after paying the paps they are not covering you. Also whatever anyone does on this earth, is none of your business and why didn't you upload this story for Ranveer Singh? You are a hypocrite. I didn't judge you for your 2 divorces or dating young men, then why are you judging me?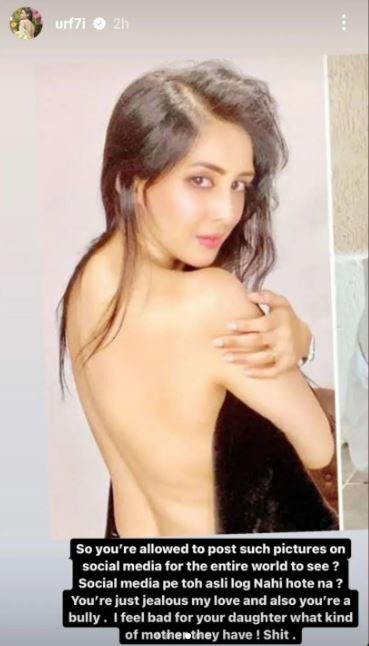 Urfi did not just stop at this, she shared a backless picture of Ms. Khanna and wrote, "So you're allowed to post such pictures on social media for the whole world to see? Social media pe toh asli log nahi hote na? You are just jealous and a bully. I feel bad for your daughter, what kind of mother does she have? Shit.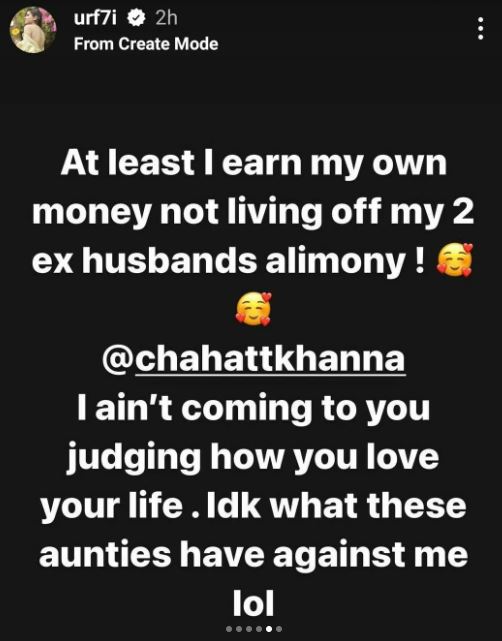 "At least I earn my own money, not living off my 2 ex-husbands' alimony! I ain't coming to you judging how you live your life. I don't understand what these aunties have against me. LOL!," Urfi added.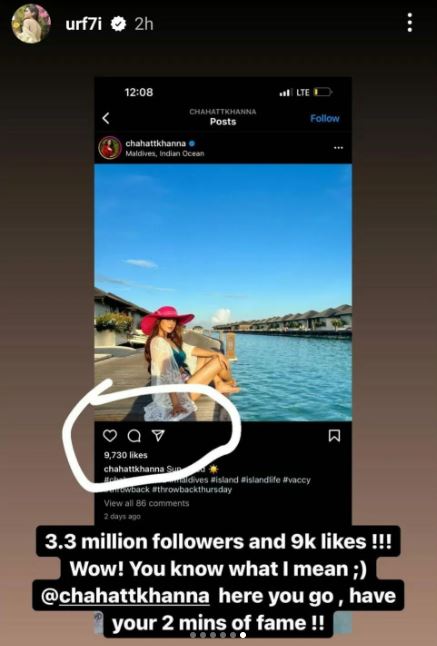 She posted one more picture of Chahatt on her stories highlighting the number of likes and wrote, "3.3 million followers and 9k likes?? WOW!!! You know what I mean! Here you go, have your 2 minutes of fame!!"
This catfight has just begun, let's see what we get to hear in the coming future!