EXCLUSIVE: Abhinav Kohli Revealed In Interview, Shweta Tiwari Has Hit Me With A Stick, Contrary To Her Domestic Violence Accusations'- Deets Inside
Television actress Shweta Tiwari's second marriage with Abhinav Kohli has been in the news since 2019 as their wedding seems to be going on the brink of divorce. Shweta had accused Abhinav of domestic violence on her and sexual harassment to her daughter Palak (with first husband Raja), for which she had even filed a complaint which comes as a shock for many. As of 2021, the actress has been staying separately with her daughter Palak Tiwari and a son with (Abhinav) who is named Reyansh. Marriage comes with responsibilities and it takes patience and bonding to work things out when it gets bitter. After many attempts, this duo failed to work their marriage out, and later things gotten into ugly fights.
Now, for the first time, Shweta's husband Abhinav had opened up about their failed marriage in his recent interview with SpotboyE and has revealed what exactly went wrong between the two since 2017. When asked about what was the first time you and Shweta had an argument? he went on to say, It was in 2017 that because of her family member, we had a big argument. I don't want to talk about what exactly happened between us and who the person was who was involved but after that scene, Shweta was not ready to listen to me and she separated me from my son Reyansh for three long months at that time. After those three months, things were sorted out between us and we got back again as husband and wife and were living a normal life till August 11, 2019. Talking about what went wrong on August 11, 2019? Why did Shweta have to file an FIR against you? Abhinav had stated, We again had a fight which was unrelated to anything sexual as what was written in the FIR against me. It was a normal fight over a child between two parents which blew out of proportion. But the punishment that I was given for that was not as per the crime committed. And after that too, by keeping my son away isn't she still punishing me? Even in our constitution, it is written that you can't punish a man for the same crime twice.
 Asking about his opinion on Shweta's recent interview in which she has spoken about facing domestic violence in front of her kid. He revealed, If you see her interview very closely, she said that when my child was 6-year-old, she saw me getting beaten. I was not in Palak's life at that time. She is talking about Raja. Again Palak in her note which she posted about me after the August 11, 2019 incident on her Instagram and later deleted it, had written clearly that apart from that day Abhinav has never slapped my mother in the past 10 years. Apart from the fact that I have done anything sexually wrong with her, which I feel Palak does have the consciousness somewhere that I have not done it, her father has never ever inappropriately touched her. 
When asked if he Had ever beaten up Shweta? I have never beaten Shweta apart from that slap which Palak herself has mentioned in that open letter. And I had already apologised for that slap to both of them. This whole thing is just a confusion created by Shweta just to prove that I used subjected her to domestic violence which is not true. I have never been a woman beater.  In her latest interview again she is saying ki Abhinav ne bola ek aurat ki izzat utarna kitna aasan hai. So she is just trying to make my image bad by saying that Abhinav is anti-woman, he doesn't respect women.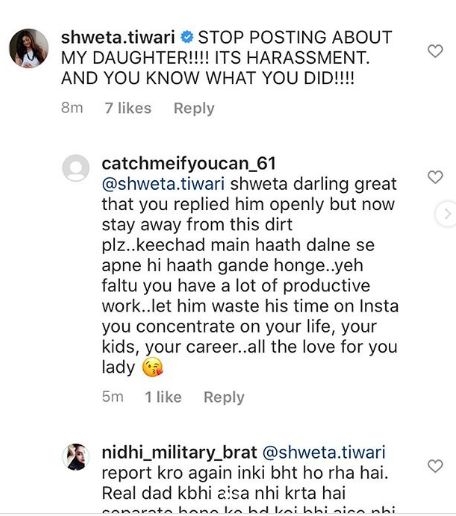 Whereas I have never disrespected her in any of my interviews or a social media post. In all my posts, I am just posting what has been the fact. On the contrary to her claims, Shweta has hit me with a stick. In 2017, when we had a fight and she separated me from my child for three months, I tried to meet my child. And I have also shared a photo on my Instagram where you can see that black mark below my eyes. Shweta also has CCTV footage of that incident as she had written a letter to the society asking for it as evidence for that fight. In her latest interview, Shweta says I also get provoked but I have not hit anybody. But she has hit me and when she did that to me nobody came to know as I didn't go to the media and said anything or ran away from my child which she has been doing.