"Beta Iam Mother Of All Fathers, Aukat Mei Rehkar Baat Karna Aage Se" Kangana Ranaut Slams A Troll Saying She Knows Nothing About Israel
Kangana Ranaut has been very vocal about her opinions and she never shies away from expressing it on social media. She is recently facing a lot of criticism and backlash after her post on Israel-Palestine attack went viral. People have slammed her by saying she knows nothing about Israel. Now Kangana has taken to her Instagram to bash all those questioning her knowledge on Israel.
In the video shared on her Instagram she can be heard saying, "As you can see the video clearly shows how Israel was formed, no it is not an illegitimate nation they earned it back from the British and when they settled the land with UN interference 6 Muslim nations attacked them, since then with every attack on them they are seizing more and more land…because that's what happens when you win a war… All those crying here and telling me I know nothing.. beta I am the mother of all fathers..aukat mai reh kar baat karna aage se."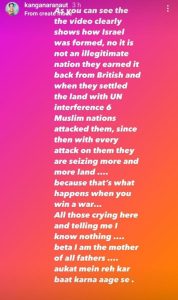 "If we go by crying foul hyena's logic in that case there should only be Hindus in Inia, red Indians in America and aboriginal people in Australia… aise kaise ki head you win and tail I loose… how dare you call all Jews illegitimate people who don't deserve to exist anywhere in the world? Bevkoof banake rakha hai sari duniya ko… gundagardi karna chahte hain lekin jab same se aur kare toh ro ro ke chati peetna… sari duniya sir pe utha lena, bikau media aur dumb logon ko use karke false narrative chalana. Sharm karlo tumhari pol sari duniya mein khul gayi hai… Aur mere baare mein kuchbologe toh nanga kar dungi."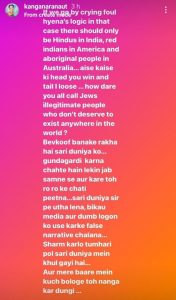 View this post on Instagram
Stay tuned for more such gossips.