Ajay Devgan Strongly Refuses To Reschedule Ad Shoot For Shah Rukh Khan Amid Aryan Khan's Arrest In Drug Case? Know The Truth
Shah Rukh Khan has been going through really tough time ever since his son Aryan Khan was locked inside the Arthur Jail in drugs-on-cruise case. He has been forced to cancel and reschedule a lot of his work commitments including the shoot of Tiger 3 and Lion. It was also reported that he cancelled his shoot with Ajay Devgan for a pan masala ad that both were a part of.
While the whole Bollywood fraternity has come out in support of Shah Rukh Khan there were reports of a rift between him and Ajay Devgan. It was reported that Ajay Devgn even allegedly told the producers of the commercial that he can't reschedule for SRK's personal problem as it has nothing to do with him.
The claim was made by Kamaal Rashid Khan aka KRK who had tweeted, "According to reports Ajay Devgn did shoot his portion for pan masala advertisement on the shoot date while #SRK cancelled shoot. Ajay told producers that he has nothing to do with SRK's personal problem. So he can't give another date for the shoot. Fair enough! This is family!"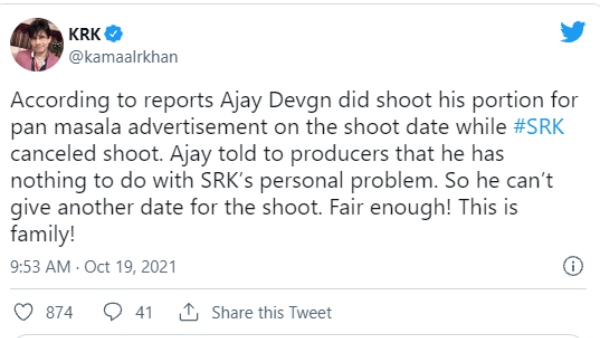 However, this is far from what actually happened. As per a report in BollywoodLife Ajay willingly agreed to readjust the schedule for Shah Rukh. The source was quoted as saying, "Ajay is very well aware and understands the sensitivity of the matter and he is a doting father to his own two children, he truly understands another parent's pain at this time".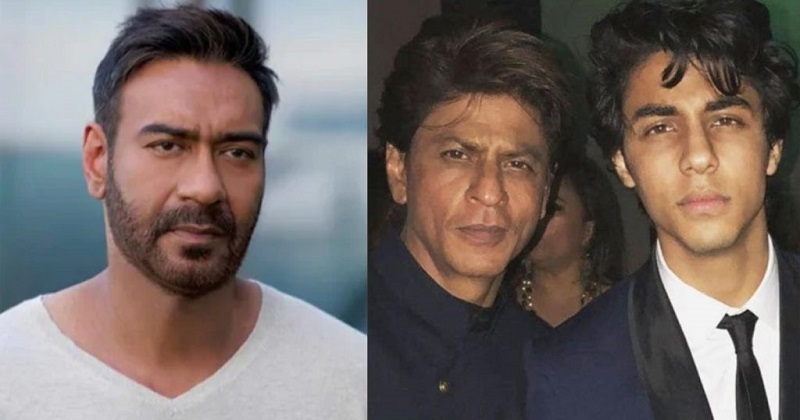 The source had further added, "Ajay willingly agreed to adjust schedule for Shah Rukh, who shares great bond with his wife Kajol. In an earlier interview, Ajay had gone on record to say that he has high regards for Shah Rukh since he was the first person to land up at their home to help when Kajol suffered a miscarriage and Ajay was totally distraught".