Abhishek Bachchan Questioned If He Has 'Hash'; Actor Gives An Epic Reply
Abhishek Bachchan is known for his classy sense of living. Like his father, Abhishek is also quite active on social media and keeps posting stuff there. However, being active on social media comes with its pros and cons. Abhishek Bachchan has been exposed to a lot of hate and criticism but the actor always takes it in a very classy manner. Recently, a social media user asked Abhishek Bachchan if he smokes 'hash'. The question seems to be coming because of the ongoing investigation on the alleged drugs-nexus in Bollywood. Reacting to the troll, the actor gave an epic reply.
Yesterday,, Abhishek Bachchan tweeted to express his excitement towards the premiere of father Amitabh Bachchan hosted show, Kaun Banega Crorepati. Reacting to the tweet, one fan took a sly dig at the actor about him being 'jobless'. Soon, Abhishek replied and said that his next work depends on the audience. Later, replying to Bachchan's tweet, a social media user wrote, "Hash hai kya?"
Reacting to the tweet and the troll's question, the actor gave a befitting reply. He wrote, "No! Sorry. Don't do that. But will be very happy to help you and introduce you to @MumbaiPolice am sure they, will be very happy to learn of your requirements and will assist you."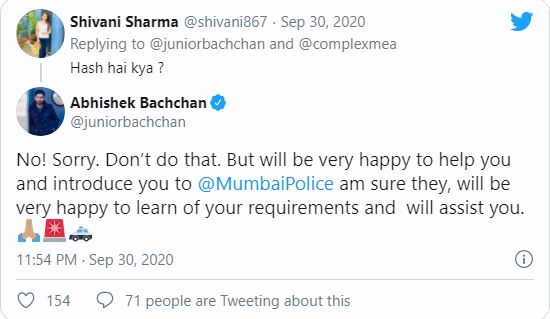 Meanwhile, after Abhishek Bachchan's reply, the troll went on to reply and wrote, "Your PR is harassing me. Shameless Bachchan," to which the actor replied, "I don't have any PR, ma'am. Good night." As Jr Bachchan reacted to the troll, he received immense support from his fans on social media who also slammed the troll in return.