With NCB Denying Sara Ali Khan Being Named By Rhea Chakraborty, Sanjay Gupta Asks 'Do You Have No Shame, Sara Is Someone's Daughter'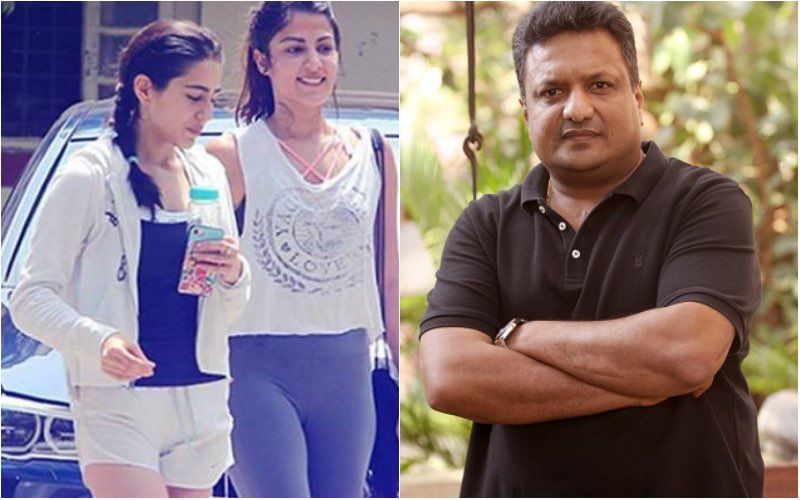 There were a lot of news a few days back about Rhea Chakraborty naming over 15 A-listers of Bollywood for consuming drugs. It was believed that Sara Ali Khan, Rakul Preet Singh, and Simone Khambatta are among those named in the case. Narcotics Control Bureau has denied any such list being prepared and now people have come out to question all the news channels and reporters who derogated the young girls without any confirmation about the news.
After the news broke out in the media, filmmaker Sanjay Gupta expressed his disappointment over fake news headlines and asked some serious questions regarding the same. Taking to his twitter handle, Sanjay wrote, "Sara Ali Khan is also someone's daughter just as you are or my daughter is. Does @navikakumar have no shame or responsibility to do this most derogatory shit to a young girl on the threshold of her career???" Supporting Gupta's tweet, many social media users commented in his favour. One wrote, "This isn't the first time that someone has been vilified by the media. Has happened to JNU students before. Shashi Tharoor's hounding. Different stories, same intention. Find stories to deflect attention from the shortcomings of the government." While another netizen wrote, "Deliberately showing images in skimpy cloth. Oh god! Journalism used to be good in old days"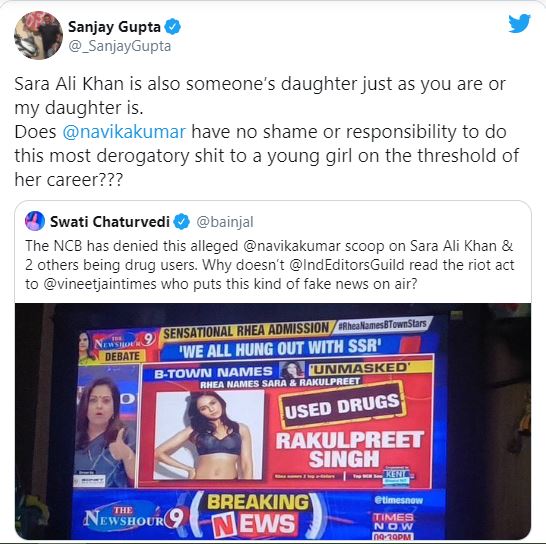 Meanwhile, Rhea Chakraborty has given a 20-page long statement to the agency in which she has revealed some Bollywood A-listers consumed drugs with Sushant Singh Rajput, his Lonavala farmhouse was being used for drug parties and how a filmmaker introduced SSR to drugs and more.