WATCH: Karan Johar Joked About Aishwarya Rai To Salman Khan In Public, Left Ranveer Singh Wide Eyed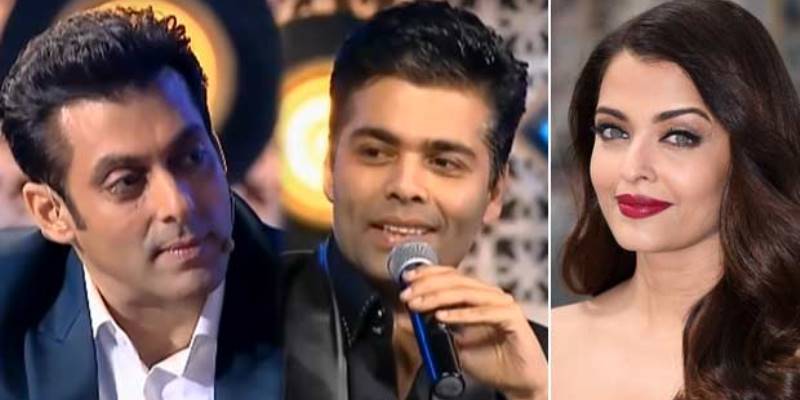 Bollywood is full of glitz and glamour and also some affairs which ended up on a sour note. One such relationship was with Salman Khan and Aishwarya Rai Bachchan. The duo dated eachother for a long time but after some time there were rumours about physically abusing Aishwarya Rai by Salman Khan. The couple's private life was no longer limited to their personal life but went out in public. The couple eventually broke up but the news of the tiff and fights between them continued.
As everyone knows, Aishwarya then started dating Vivek Oberoi but that too didn't end up well and both separated their ways. The famous interview of Vivek Oberoi to a news channel saw him accusing Salman Khan of verbally abusing Vivek Oberoi. But, after years people still talk about Salman and Aishwarya's bonding as the two looked incredibly great together.
One such person who dared to joke about Aishwarya Rai on a public platform to Salman Khan was Karan Johar. The director and producer, Karan Johar is known for his wit and sense of humour and didn't shy away from digging into the past of Salman Khan's life. Karan is also a great talk show host and is famous for his show, 'Koffee with Karan where he runs a fun section 'Rapid Fire round'. Imitating the same concept, an award show hosted by Salman Khan had a section called 'Sharbat with Salman'.
Salman Khan called Karan Johar on stage to be the guest of Rapid fire round and asked him some quirky questions. One of the questions which the actor asked him was, "if given a chance which actress he would like to turn into? To this Karan immediately said, "Aishwarya Rai". This left Salman Khan speechless and extremely uncomfortable. The situation was so awkward that it left Ranveer Singh, who was sitting in the audience wide-eyed.