Rithvik Dhanjani Opens About His Breakup With Long-Time Girlfriend Asha Negi
Bollywood and Television world is filled with over stories which not necessarily turned into marriages. One such love story is of Pavitra Rishta actor Rithvik Dhanjani and actress Asha Negi. Both the actors met each other on the set of their show Pavitra Rishta in 2011 which also starred late actor Shushant Singh Rajput and his ex-girlfriend Ankita Lokhande.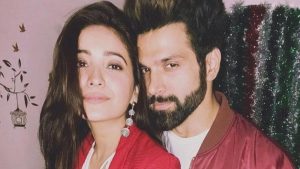 Rithvik Dhanjani and Asha Negi soon became a household name for acing their roles in the show. Both had started dating each other soon after the television series became a hit. Fans and followers were hoping for them to tie the knot soon but unfortunately, their real-life love story ended abruptly.
Talking about his relationship with Asha Negi, Rithvik Dhanjani revealed few details on the chat show 'By Invite Only Season 2'. "I can't begin to thank my stars enough, not just for that relationship and not just for Asha being a part of my life but for each and every human being that loves the both of us together. Till date I still have people asking me about the times we spent on Pavitra Rishta together," he said.
Rithvik continued further and added, "My love is celebrated, and it still has wings. I am in a great place; she is in a beautiful place. I wish the best for her. I think those 9-10 years of my life were the best thing that has ever happened to me, it really made me who I am, and she really helped me become so much better of a human being. I can't thank her enough. It's been a beautiful union up until the time it was. We now probably have different ways and journeys. And that's all that I live by every day," he added.