Ranbir Kapoor And Ali Bhatt Brutally Slammed For Flying To Maldives Amidst Corinavirus Cases Surge, "Ghumne Jana Bhi Essential Service Hai Shayad"
Ranbir Kapoor and Alia Bhatt, both were tested positive for COVID-19 but now they have recovered from it and have decided to go for a romantic holiday. It was only yesterday when the couple was spotted at the airport while leaving for the Maldives. However, this didn't go well with a lot of netizens and they started trolling the couple for going on a vacation amidst the COVID-19 lockdown.
Ranbir Kapoor and Alia Bhatt's social media accounts are filled with hateful comments. Right from calling them illiterate to shameless and bhagode, the comment section is filled with criticism. A user wrote, "Shameless ppl. Country is facing such tough times. Instead of helping people vacation is important. #shameless" while another one said, "How those India celibraties are allowed to travel all over the world meanwhile normal pple are struggling this massive covid19 cases, shame on you guys"
There are many who wondered if there's no lockdown in the tropical islands as one said, "Phele toh Maldives mein lockdown lagao aur India border seal karo warna aise log ke wajha se common man is suffering" another one commented, "Maldives mein corona nai hai kya?"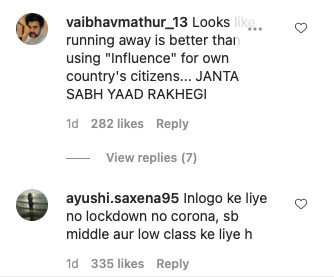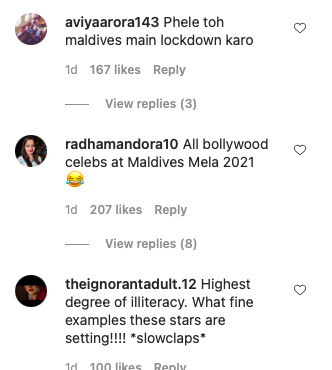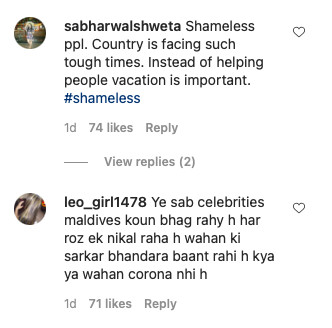 For the outing, Alia was seen wearing a pale yellow top which she teamed with a white sleeveless denim jacket and matching jeans. Pulling her hair in a bun and strappy heels, Alia looked chic. Whereas Ranbir was seen wearing a white t-shirt and blue denim. The lovebirds were completely twinning with each other right from their attire, black sunnies to even their masks.