Massive flood after cloud burst in Himachal Pradesh
A cloudburst in Dharamshala cause a havoc because of the massive flash flood causing damage to the vehicles , hotels, properties in the Bhagsu Nag area .The flash flood have caused massive damage. Many videos were shared by the locals of the area on the social media platform which shows the flood has caused massive destruction in the city. Heavy rain has alos lashed the Kangra district , 58 km from Dharamshala, throwing life into disarray. The cloudburst and flash flood have together caused fear in people as well as have also commotion and confusion .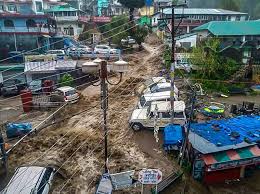 These things happen because of the activities of the human, human intervention causes the nature to act abnormally. Several cars are submerged in the water . The Manjhi river in the state raging due to heavy rainfall . The overflowing of the river has caused damage to around 10 shops in the nearby areas. Besides the Kangra, several other districts in Himachal Pradesh have also witnessed heavy rain after days of hot weather. People were also missing from the kangra district after heavy rain and flash flood. 3000 mm of rainfall has been recorded in and around the dharamshala area. Nature react and alert us to not to disturb its cycle.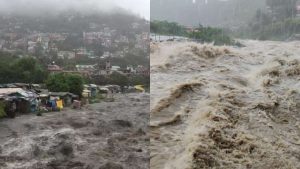 When our half of the country people are busy in celebrating their vacations and going on the different tourist locations , heavy rainfall have lashed the Mcleodganj and nearby areas also. The team of the National Disaster Response Force (NDRF) teams are reaching the affected areas to rescue and relief work. These make more havoc because of the lack of drainage and forecasting facility , if the area have got the good drainage system then rainfall would not have made this havoc and also if the area have got the alert before .
Government should take strict actions towards the imposition of the rules and keep a close check on the activities of the tourist places.