Karan Mehra's Comment On Co-Star Himanshi Parashar's Video Sparks Dating Rumours Amid Extramarital Affair Allegations By Wife Nisha Rawal, Netizens Says "Chhi"
Karan Mehra and Nisha Rawal's marriage has hit the rock bottom. The couple who made us believe in happily ever afters have parted ways. The ongoing feud between the two really breaks our hearts. Both Nisha and Karan are leveling serious allegations against each other while Karan accused Nisha of having bipolar disorder, Nisha accused him of being unfaithful and having an extramarital affair. Amid all of this Karan Mehra's comment on co-star Himanshi Parashar's video has grabbed many eyeballs.
Himanshi Parashar recently shared a video with Karan from the sets of their show "Mawaan Thandiyan Chawan" and captioned it as "Karan says that i'm a down to earth person @realkaranmehra i knw it's lame. #bts @maavanthandianchaavan @zeepunjabi_off."
View this post on Instagram
Replying to this, Karan wrote, "I had said "Itna bhi nahi girna chahiye ki aap zameen pe aa jao" Cute moment and fun shooting with you." To which Himanshi replied, " apke liye hum kahi bhi gir jaynge karan ji". And this fun banter between Karan and his co-star is not going down well with the netizens and they are speculating if Himanshi Parashar is the one he is having an affair with. Fans are bombarding the comments section with comments like "Chhi". Later Himanshi deleted the hateful comments. Take  a look: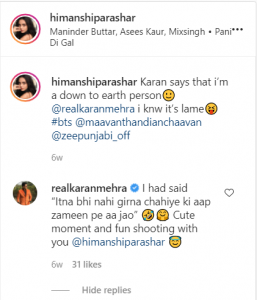 For those who are unaware, Nisha had earlier revealed, "Karan has been having an affair with another girl, which I didn't know about. When I came to know about it, he accepted that he has another girl in his life. I asked if he has physical relation if it's a serious affair or an emotional one. He said 'I love that girl. I have been having physical affair with her." While Karan had refuted these allegations and called it baseless, "All these allegations are bound to come up and I will be linked with many people. These stories are baseless. I haven't cheated on her and I am not having an extramarital affair."
What are your views on this? Do let us know in the comments section below.