Kangana Ranaut Slams All For Trolling Her Bikini Pic, Gives Example Of Goddess Bhairavi Without Clothes
Actress Kangana Ranaut has been making headlines for the ongoing feud with Singer Diljit Dosanjh over the farmers' protest. Recently, Kangana Ranaut shared an old picture of her which invited a lot of trolls. In the picture, Kangana can be wearing a bikini while sitting on a beach in Mexico. However, the picture didn't go well with the netizens and they started criticizing the actress for sharing such a picture. Now, Kangana Ranaut took to her Twitter handle to slams all those who are trolling her.
While sharing another picture of herself, Kangana Ranaut wrote that those ridiculing her should stop pretending to be the final authority when it comes to religion. She wrote, "कुछ लोग मेरी बिकिनी पिक्चर देखकर मुझे धर्म और सनातन का लेक्चर दे रहे हैं, अगर कभी माँ भैरवी बाल खोल, वस्त्रहीन, ख़ून पीने वाली छवि लेकर सामने आ जाए तो तुम्हारा क्या होगा? तुम्हारी तो फट जाएगी और ख़ुद को भक्त कहते हो? धर्म पे चलो उसके ठेकेदार मत बनो…. जय श्री राम 🙏 ("Seeing my bikini picture, some people are giving me the lecture of Dharma and Sanatan. What will happen to you if Goddess Bhairavi come at you with her hair loose, without clothes, drinking blood? You will be scared. And call yourself a devotee? Don't pretend to be authority on religion…. Jai Shri Ram").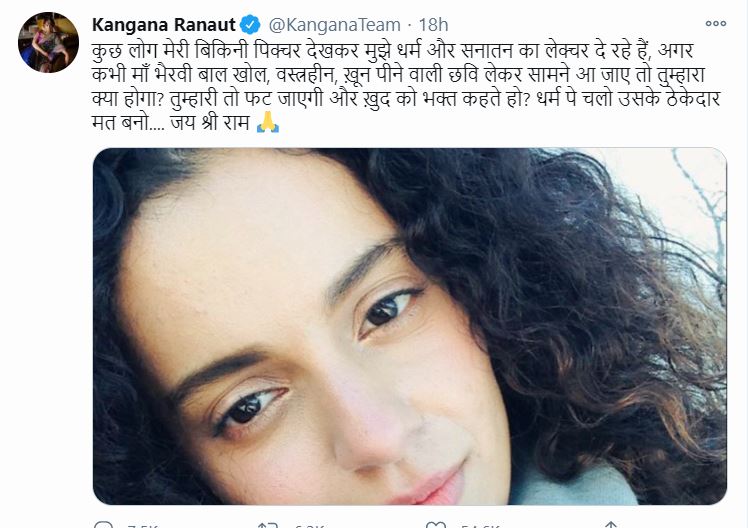 While sharing her bikini picture, Kangana had written, "Good morning friends, one of the most exciting places that I visited in my life is Mexico, beautiful but an unpredictable place, here's a picture from Tulum a little island in Mexico."