Kangana Ranaut Reveals Goons Have Reached To Destroy Her Mumbai Property, "Maha government and their goons are at my property"
Kangana Ranaut has been receiving a lot of backlash from the people of Mumbai and its political parties for saying that she feels Mumbai is turning into Pakistan Occupied Kashmir. She was abused by politician Sanjay Raut and has been threatened to not enter the state of Maharashtra. Meanwhile, the Mumbai police and BMC reached Kangana Ranaut's Mumbai office two days back without any notice to investigate. They put out a notice to stop work under section 354/ A of Municipal Corporation Act yesterday. Now, before the actress could even arrive there, they have reached her Manikarnika Studios and it seems they're ready to demolish the property. Now she's taken to Twitter to talk about the same.
Talking to her twitter handle, Kangana mentioned how the goons are ready to break it down illegally. The actress also mentioned that she promised to give her blood for Maharashtra and this is nothing. "As I am all set for Mumbai Darshan on my way to the airport, Maha government and their goons are at my property all set to illegally break it down, go on! I promised to give blood for Maharashtra pride this is nothing take everything but my spirit will only rise higher and higher," she wrote.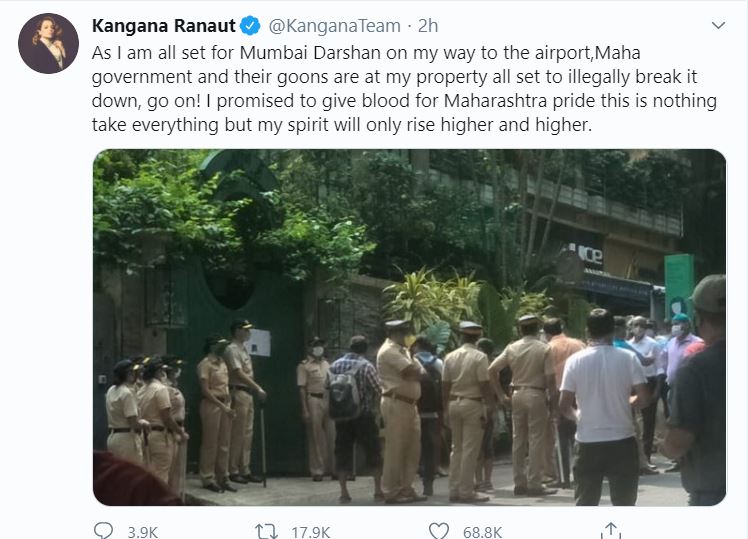 Earlier, when caveat was filed, she wrote, "Now @mybmc has filed a caveat against me, really desperate to break my house, I deeply love what I built with so much passion over so many years but know that even if you break it my spirit will only get stronger …. GO ON …"