Kangana Ranaut Gets Y+ Security For Her Mumbai Visit, Kubbra Sait Wants To Know If It's Going From Her Taxes
Kangana Ranaut's vocal attitude has become a threat to her now. She has been the talk of the town after Sushant Singh Rajput's death and has been threatened to not enter Mumbai. However, she made it pretty clear that she would be coming to Mumbai even though the Maharashtra politician called her a 'haramkhor ladki'. Now, she's been provided with Y+ security cover by Union Home Ministry ahead of her Mumbai visit.
As reported by PTI, Kangana will be protected by armed commandos of CRPF who will be working in shifts. Another report in Times Of India states that Central Reserve Police Force (CRPF) officials said they're waiting for the official order from the MHA and Kangana will be the first Bollywood star to be provided by elite security.
Reacting to the news of Kangana being given Y plus security and being guarded by commandos of CRPF, Kubbra Sait wrote, "Just checking, is it going out my taxes?" Replying to a social media user's comment, Kubbra also wrote about caring whether she is 'contributing to the atrocity being provided for.' Check out the tweets: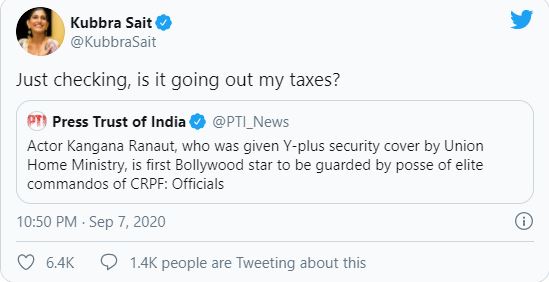 Maharashtra's Home Minister Anil Deshmukh also reacted to the news of Kangana being protected by CRPF commandos. ANI quoted him saying, "It is surprising and sad that those who insult Mumbai and Maharashtra, are being given 'Y' level security by the centre. Maharashtra is not only of NCP, Shiv Sena or Congress but of BJP & the public too. People of all party should condemn it if one insults Maharashtra."