'I Was Jumping With Excitement' Taapsee Pannu After Getting Trolled For Having 'Masculine' Body In Rashmi Rocket
Taapsee Pannu has carved her on niche in the entertainment industry. the actress doesn't come from any filmy family background and yet has worked some of the best directors in Bollwyood. The actress today, is known for working in most unique films that have some message for the audience. Talking ti Indian Express, Taapsee Pannu opened about the selection of the scripts, "If I do films which don't revolve around an issue, some people will raise eyebrows. Now you see my situation, if my film caters to an issue, there's a section that claims I only do films with a 'mudda', and if there isn't any, even that's a problem. So I'm stuck in a situation where 'naa chitt meri, naa patt meri'. I've understood that I cannot make everyone happy with my choices. I'd rather make myself happy and create a filmography where I can look back and be proud of," she told indianexpress.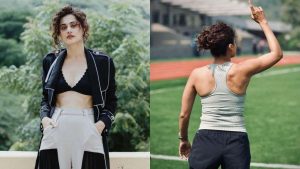 Recently the actress was trolled on the social media platforms for transforming her body to masculine. A twitter user had also commented on the pictures of Taapsee from Rahmi Rocket's set as 'Mard Wali Body'. However, the actress feels that these are the compliments she was looking forward to as her film Rashmi Rocket is all about this. "Those trolls gave me a promotional strategy on a platter. They didn't even realise what hit them. It was like you struck gold, I was jumping with excitement seeing that reaction to my picture. Then when the trailer came out, I reacted that if you throw lemon at me, I'll make lemonade out of it," she told Indianexpress.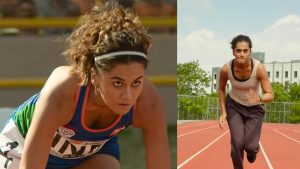 On the work front, Taapsee Pannu is all set for the release of her sports drama film Rashmi Rocket which is directed by Akarsh Khurana.