Hindi Medium Actress Saba Qamar Cancels Her Wedding, Says 'Didn't Meet Him & It's Never Too Late To Realise Bitter Realities'
Marriage is a sacred thing and everyone dreams to be married to their soulmate for life. However, it isn't that easy and not everyone is able to find the right person with whom they can settle for life. While some people find out later in life about marrying the wrong person, there are others who find out about the negativity even before getting married. Hindi Medium Actress Saba Qamar feels blessed to have realized the bitter realities before tying the knot and has called off her wedding.
Saba Qamar took to her Instagram handle to announce the same. She wrote, "Hii Everyone I have a very important announcement to make, due to a lot of personal reasons I have decided to call it off with Azeem Khan, 'WE ARE NOT GETTING MARRIED NOW' hope you guys will support my decision just like you all have been supporting me always, and I guess it's never too late to realise the bitter realities! I also wanted to clear ONE IMPORTANT thing that is: "I have never Met Azeem Khan in my life we were only connected over the phone" It's a very hard time on me right now but as we all know 'THIS TOO SHALL PASS' Insha Allah 🙂 Much love to you all! -Saba Qamar."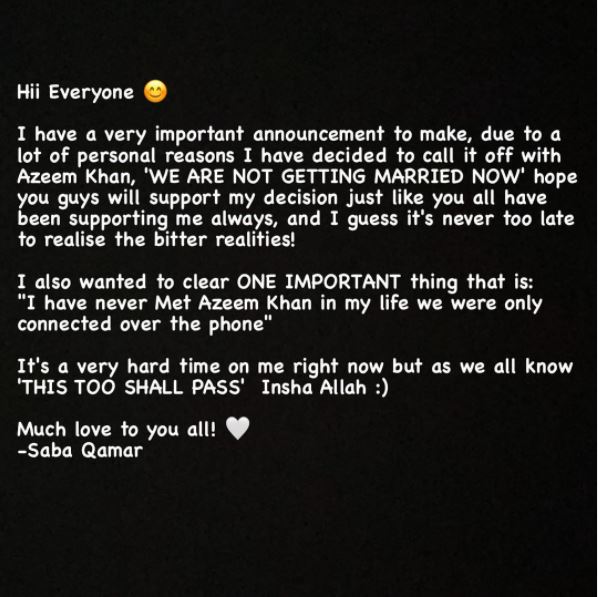 Saba did not mention the reason for the split. Reportedly, some time ago, a woman had accused Azeem of sexual harassment. Azeem had addressed the issue in an Instagram video, only to delete it later.
Many of her fans wrote in to show support; one said: "May you find the one that deserves your heart." Another said: "Better now than later!" A third person said: "Don't worry we are with you."