GoCoronaGo: Bollywood Celebs Came Together At 5 To Fight Against Corona; Clapped And Played Drums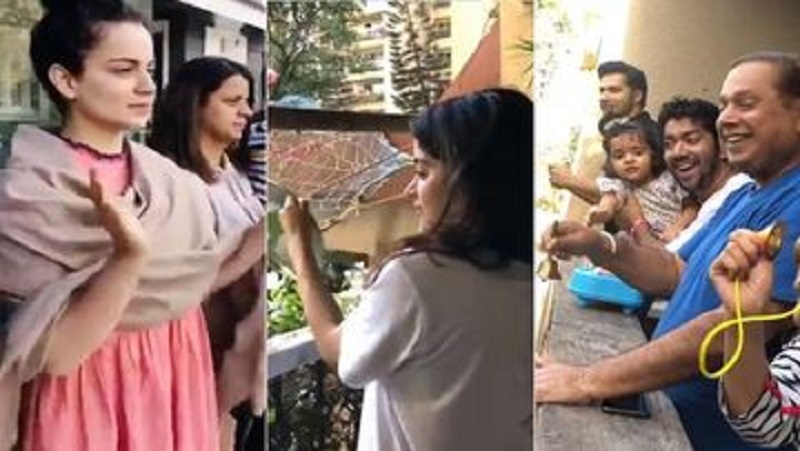 As coronavirus has hit not only the nation but the entire world, people including Bollywood celebs are coming together to make people aware abou the consequences. Sunday, 22nd March was announced as the Janta Curfew from our honourable, Prime Minister: Mr Narendra Modi. Each ordinary man, as well as the celebs from Bollywood to Ambani's, followed his request. All of them came out of their at 5 and claped, played drums, music and whatever they could.
Bollywood celebs including Anil Kapoor and Amitabh Bachchan along with Jaya Bachchan, Aishwarya Rai Bachchan, Abhishek Bachchan, Kangna Ranaut, Bhumi Pendekar, filmmaker Karan Johar, Varun Dhawan, Hazel Keech, Neha Dhupia and Angad Bedi, Vicky Kaushal, Janhvi kapoor, Akshay Kumar, Hritik Roshan and others shared their video on their official Instagram page. Sharing a glimpse, Rangoli posted short video on her twitter. Along with it, she wrote, 'Here we are expressing our gratitude for all the people who are staying outside of their houses so we can stay inside our houses, May Maa Sherawali protect you' Have a look at it:
Karan Johar too posted a video on his Instagram. Varun Dhawan & entire Dhawan family also joined the league, taking to his Instagram handle he wrote, "#JANTACURFEW we will have to do this for longer. Everyone who is my age please keep your parents safe. I applaud the heroes fighting this virus" While, Boney Kapoor too shared video of daughter Janhvi Kapoor's appreciating gestures on his Twitter handle.
National Crush Vicky Kaushal, too penned a note taking his Instagram handle. His caption could be read as, "From us to all the real heroes- the medics, doctors, nurses, volunteers, police, the government and everyone who's being responsible and staying back Home ensuring safety of themselves, their families and others… we are in it together- stronger and healthier! #gratitude #IndiaFightsCorona"
While Neha Dhupia along with husband shared, 'Its 5pm and here we are … Saluting our real heroes…. I hear chants, church bells, cheer, applause n songs of patriotism…. I'm sure the spirit all over the nation is amazing right now… Saluting our doctors , nurses,sanitation workers,health care workers , grocery suppliers and all those who are putting themselve' Bhumi Pednekar shared her video with the caption, "A big salute and a big thank you to our heroes ,our doctors, the medical staff and any front line workers that are working tirelessly at battling this pandemic.To support them it's our duty to stay indoors, be self quarantined, cause that's the only way we can stop the virus from spreading. So stay indoors, wash your hands and be positive :)#indiafightscorona #jantacurfew #spirit #coronastopkarona"