Bharti Singh Reveals Anita Hassanandani & Rohit Reddy's Baby Boy's Name: Deets Inside
Anita Hassanandani and Rohit Reddy welcomed their baby boy on 9th February and have been indulging in parenthood ever since. However, they had not yet revealed the name of their baby boy. But it seems they have finalized the name of their little munchkin and it's a really beautiful name. The two have named their baby boy Aaravv. And the best part is, they have even created an Instagram page for their bundle of joy but it does not have any pictures or videos as of yet. But we are sure; the social media-friendly couple would be blessing us with pictures of their baby boy soon.
However, the name has not been revealed by the couple yet. But their close friend and comedian Bharti Singh has made the revelation on her Instagram page. She shared a video on her Instagram story where she showed off the hamper she had received by Anita Hassanandani and Rohit Reddy. In the video, one could notice a card that had mention of the little boy Aaravv's Instagram page. The card read as "Now Accepting Friend Requests" and at the bottom, one could see Aaravv's Instagram handle mentioned.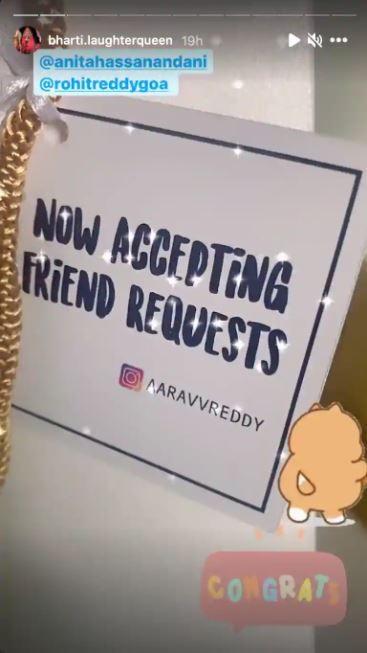 When you visit the Instagram page, you can see no posts available on the page as of yet. However, in the profile picture, you can see a little baby's hands as the picture. Both Anita Hassanandani and Rohit Reddy are following the page.
If you remember, both Anita Hassanandani and Rohit Reddy had been sharing moments from t7heir pregnancy ever since they announced it. New father Rohit Reddy was the first one to announce the arrival of the baby boy on February 09th.
Now that they have created the Instagram page of their baby boy, we are sure we will be seeing some really cute and cool pictures and videos of their baby boy Aaravv soon.