Archana Gautam-Gori Nagori Gets Into Ugly Fight, Shalin Bhanot Comes To Rescue; Watch Video
The biggest reality show on Indian television is already in its 16th season. the show over the year has gained huge popularity among audiences. This year, the show has strong contestants like Archana Gautam and Gori Nagori, who recently got into an ugly fight and almost physically hurt each other.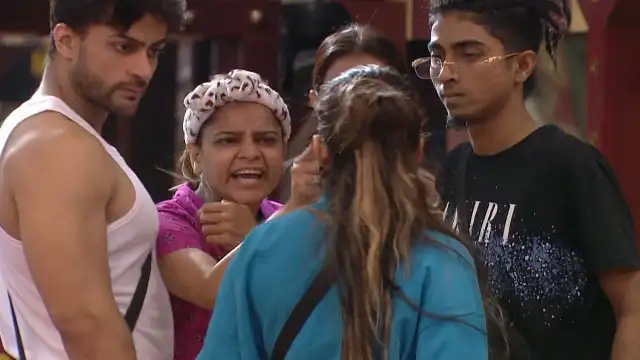 The show's new clip shows the two contestants in the kitchen area. Where Archana is telling Manya not to mix 'dal' as she cooks but the contestant didn't like that and got into an Argument with Archana. Manya got so furious that she ended up calling Archana a 'thief'. Later, the two get into a fight which is then resolved by Shiv Thakare who separates the two.
Later, in the day while Archana is standing in the Kitchen she asks the inmates, 'Who threw the Avacado?' To this, Gori while sweeping replies Archana herself has thrown it, "tumne hi pheka hoga aur koi nhi hoskta. This leaves Archana furious and she come close to to Gori asking did she saw her throwing it. She also starts yelling, "Tameez se, jab tak sabot na ho bhok mat".
View this post on Instagram
The two then get into an ugly fight so much so that Archana points her finger at Gori and she pushes her hand away. Other contestants in the house get to know about the fight and they try to separate the two. Priyanka Chaudhary too comes in between the fight and asks Gori to not accuse Archana if she hasn't seen her throwing the Avacado.
Archana then swears on her mother and tells the inmates she hasn't done it. She also passes comments on Gori's upbringing which makes the argument more aggressive. The two then started throwing things at each other, Gori in the promo is seen throwing water at Archana. Other inmates warn the two about not getting physical.