Ankita Lokhande Comes To Support Ishaan Khattar's Mother Vandana After Her Pre And Post-Partum Depression Post
Being a mother is one of the most beautiful feeling in the world but at the same time really challenging as well. She goes through so much to give her kid the best in the world and many even go through pre and post-partum depression which makes the journey of motherhood and the pregnancy really hard. Recently, Ishaan Khattar's mom Vandana opened up about facing the same and she has received support from many celebrities including Ankita Lokhande.
Ankita Lokhande shared a picture of the couple and captioned it as, "What a journey, so inspiring". Speaking to Miss Malini, she revealed that they were going to have twins but due to Vandana's uterine lining being weak, she kept her legs raised for 3 months. Unfortunately, she started bleeding one day and only to find that they lost one of the babies while Yuvaan was born prematurely. Yuvaan was kept in NICU for three months. Heartbroken with the loss of her baby and traumatic delivery, Vandana went into postpartum depression.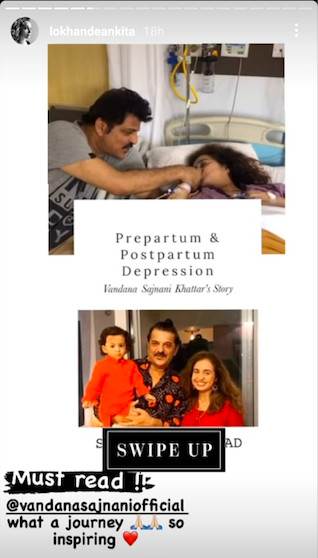 She told the portal, "I can't even tell you what a sight it was to see my baby so tiny and the size of an arm, with wires all over his face, surrounded by pipes and tubes. The entire experience was full of stress, pain, anxiety, fear and sadness. Later, my doctor told me that it was prepartum depression, and because I did not attend to it with the right medication or counselling, it soon aggravated to postpartum depression."