Abhay Deol Has Made His Relationship Public With Activist And Poet Shilo Shiv Suleman; Heartbroken Fangirls Ask Why Did You Do That?
Leaving millions of fangirls heartbroken, Abhay Deol Recently made his relationship public with girlfriend Shilo Shiv Suleman. Abhay took to his Instagram handle to post a series of mushy pictures with artist Shilo Shiv Suleman. As soon as the pictures were shared on the social media platform of the actor, his fangirls started pouring in heartwarming comments.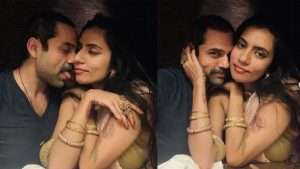 In the first picture, the much in love couple could be seen in a romantic mood as the artist placed her hand on beau Abhay's cheeks. In the second snap, Abhay could be seen lovingly kissing his girlfriend on her cheeks. But it was the third picture that garnered everyone's attention as Abhay being himself could be seen pretending to lick Shilo Shiv Suleman.
View this post on Instagram
Abhay posted the pictures and captioned it, "Fluid, free, flowing, creative, soothing, fun, fearless, sensual, calming, inspiring, dynamic, talented, sexy. Oh and @shiloshivsuleman is all of those things too!" To this, Shilo Shiv Suleman quickly replied and wrote, "Nothing taboo on this table. More adventures soon!" She wrote.
His fangirls couldn't take too much love and started saying, "Alexa please play jag soona soona laage." Another fangirl wrote, "Why did you do this to us Abhay". However, there were lots of comments congratulating the couple as well. "Happy for you both," wrote one user. "You both look good together, congratulation," wrote another user.